Dear Flag Football Families,
We are excited to welcome you to the 2023 football season! Thank-you to all our returning players and new additions to the team. Our Girls league program has quadrupled in size, going from only 32 players (three years ago) to almost 130 today. Our oldest division is now player throw. See you on the field!
Special Requests: When granting the special requests, we did our best to grant every request to the best of our ability, but some hard decisions had to be made between splitting up friends or moving a group to a new team. We thank you for your understanding that requests are not a guarantee and that the happiness of all our players is always a top priority. We hope everyone is as excited for the season to start as we are!
Uniform Handout: The first date on your schedule (first practice) includes a uniform handout followed by a practice. Please make every effort to pick up your jersey / belt and flags that night and come a bit early as there will be a uniform line-up! If you are unable to attend the first practice, don't worry: We will have a jersey ready for you at the next session you attend. Please note that the jersey/belt and flags will need to be returned after the last game.
Attendance: No need to let us know if you can't attend a game or practice, we expect families to enjoy some vacation time!
Equipment: we recommend soccer cleats for footwear as they help with traction (especially when the field is wet). Other items we recommend are a water bottle, sunscreen, bug spray and shorts (or pants) with no pockets (because fingers can get caught in the pockets when players are trying to reach a flag – especially in the older divisions!). We play in all weather and encourage players to dress appropriately for the forecast.
Team Information & Schedule: Season dates are July- 6, 13, 20, 27, August- 3, 10, 17 & 24.
To view your schedule and team information, Log into your account online or on the app. Navigate to the "Dashboard" and click on the team's name to see the schedule and team roster.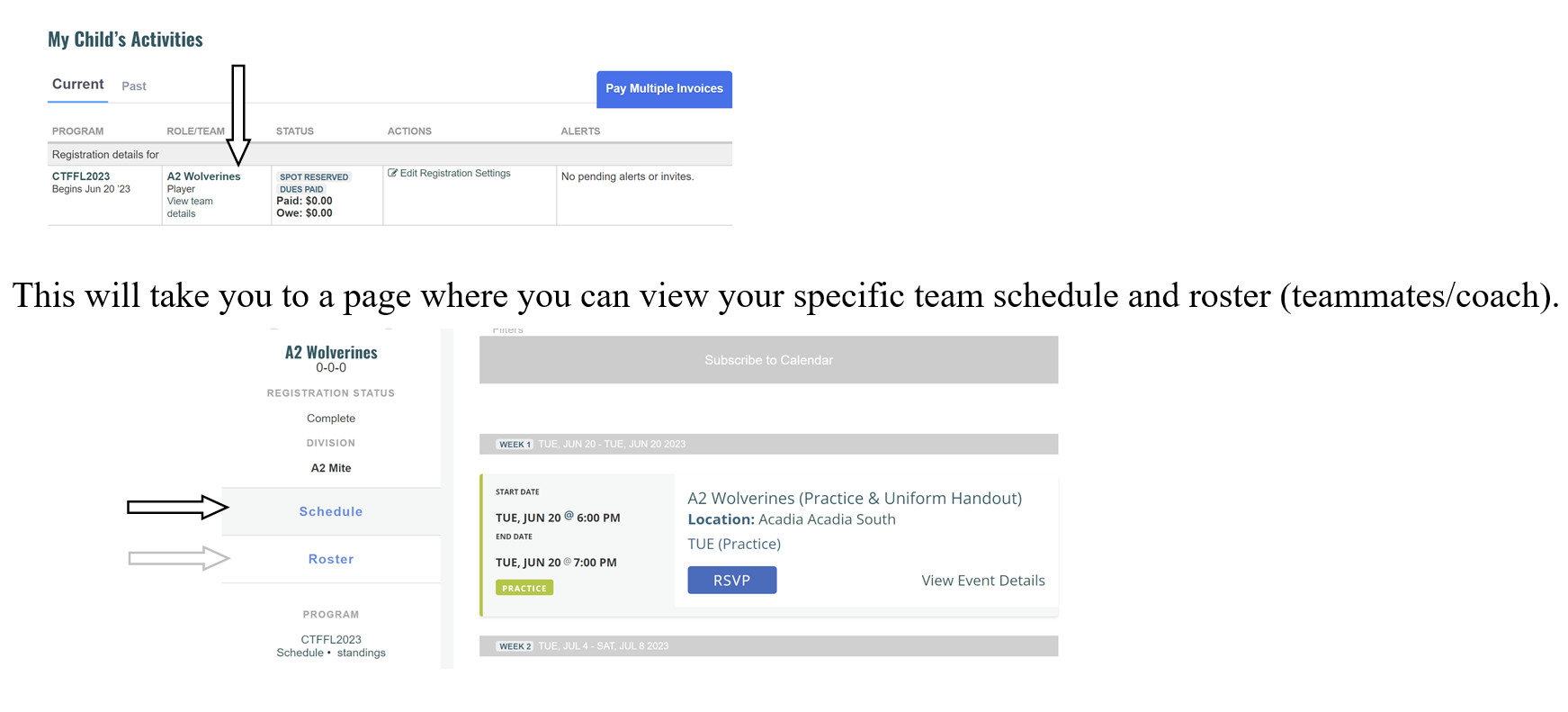 You can always find the master schedule (for all teams) by going to the website www.calgaryflag.ca, choosing your league, then clicking "Schedule and Standings" from the top menu.
See you on the field!
Don and Karen Wilson